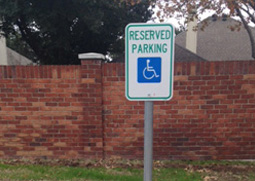 How Parking Lot Signage Can Reduce Hazards
The Occupational Safety and Health Act dictates that business owners have a responsibility to provide a safe and healthy workplace for their employees. Most owners are quick to ensure that they comply to this inside of the workplace, but often neglect to think of how this extends beyond their front door and into the parking lot.
According to the National Safety Council, more than 50,000 crashes occur in parking lots and garages each year. State laws may vary, but generally employers are responsible for injuries that occur in any area that the employer owns, maintains or operates.
Here are four steps that can help you keep your parking lot safe and compliant:
Directing Traffic Flow
Signs and pavement markings should help drivers and pedestrians easily identify the designated flow of traffic in your parking lot. Using highly visible striping, as well as proper parking lot signage, will help to identify the entrances, exits, two-way traffic patterns, handicap spaces and emergency vehicle lanes.
Design Safe Crosswalks
The safety of pedestrians can be increased by designating crosswalks in your parking lot. These pedestrian crosswalks serve two purposes. The first is that they alert drivers to pedestrians that are navigating the parking lot and second they designate a safe path for those pedestrians. These crosswalks should be highly visible and should be a minimum of six feet wide with either traditional parallel lines or a high-visibility crosswalk pattern. Proper signage will be sure to call attention to these designated crosswalks and help keep pedestrians safe.
Designate Parking Areas
Reserving parking spots for disabled patrons is necessary in order to be compliant with the Americans with Disabilities Act. It is important to comply with ADA standards by having the correct amount of accessible parking spots in your parking lot as well as proper signage for those spots. No parking signs in emergency vehicle lanes will further ensure drivers leave these areas open in case of an emergency.
Maintaining Pavement
Although it is not sign related, potholes and cracks in your parking lot are a major hazard as well. They can cause slips, trips and falls as well as distract drivers which in turn can cause an accident. Filling potholes and sealing cracks quickly will help to avoid these hazards.
For more information on how Firemans Paving Contractors can help, call us today (817) 900-6947.
https://www.firemanspaving.com/wp-content/uploads/2016/12/8.jpg
181
255
Renee Gilmore
https://www.firemanspaving.com/wp-content/uploads/2020/10/logo-300x65.png
Renee Gilmore
2019-10-14 15:23:35
2022-08-18 06:49:19
How Parking Lot Signage Can Reduce Hazards