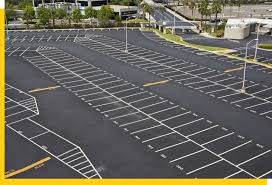 What business owners need to know about parking lot striping
The parking lot is the first thing every customer notices when entering your property. A well maintained and newly striped parking lot shows owner concern towards their property. Clear and highly visible lines not only help direct the flow of traffic, but also helps to avoid parking lot accidents.
Re-striping of your parking lot should be done every two years or before the current coating has has deteriorated by more than 75%
Having the striping done before the current paint fades not only allows you to maintain a professional image for your business at all times, but also allows the new striping to look nicer for a longer amount of time. Laying down new paint over paint that is still in decent shape allows you to build a more durable stripe.
Typical drying time is 30 minutes, however it is ideal to allow it to dry for at least one full hour before traffic is allowed to return to the area.
Before having your lot striped it is important to verify that your lot is in compliance with the Americans for Disabilities Act (ADA). If your property does not meet the minimum number of accessible spots for it's size, it is imperative that your parking lot be reconfigured to meet these requirements before you have it striped.
Parking lot striping is what got Firemans Paving started in the paving business and we are here to help with this and all of your paving needs. Give us a call today!
https://www.firemanspaving.com/wp-content/uploads/2020/10/Parking-lot-striping.jpeg
185
272
Renee Gilmore
https://www.firemanspaving.com/wp-content/uploads/2023/07/firemanslogosmall.png
Renee Gilmore
2019-12-09 16:25:38
2022-08-18 07:11:01
What business owners need to know about parking lot striping